Download ANTIVIRUS SmadAV Revision 8.6.6 (Released 10 July 2011) FREE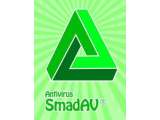 Smadav 2011 Rev. 8.6: Addition of new virus database 100, Completion SmadAV-Updater feature, especially for virus detection Ramnit, Sality, & OneLetter that spreads via USB Flash Disk, etc..
Smadav 2011 Rev. 8.5: SmadAV-Updater, features automatic database updates, special detection for viruses Ramnit.shortcut, New Features : "Forgot Password" to SmadAV Pro, a new feature: "Latest News SmadAV", etc..
Smadav 2011 Rev. 8.4: Detection of virus specific to some new shortcut (MSO-sys, fanny-bmp), the addition of 40 new virus database, enhanced shortcut detection of all virus variants, the addition of heuristic techniques, etc..
Rev. SmadAV 2010. 8.3: Addition of 40 new virus database, all variants of the virus cleaning shortcuts, and many other new features ..
Rev. SmadAV 2010. 8.2: Addition of 80 new virus database, improved false alarm, the addition of heuristic techniques for virus variants penginfeksi exe, and several other bug fixes
Rev. SmadAV 2010. 8.1: Addition of new virus database 100, SmadAV latest Virus Scanner Engine (SmadEngine.dll), and is fully compatible for Windows Vista & Windows 7.
Smadav 2011 Rev. 8 was released with many new features and improvements that are specific to local eradication of the virus. Features such as Smad-Behavior that can identify new local virus that does not exist in the database SmadAV of his behavior when infecting the system. Smad-Ray that can scan automatically flash when installed within a maximum of 5 seconds. SmadAV 2011 is more stable and highly recommended to be combined with international anti-virus because it can only handle SmadAV local virus. Immunization flash (using autorun.inf folder) has been revised and previously there will be a confirmation so you can decide whether a flash is to dikebalkan or not.
For information, samples of viruses that are uploaded to the site Smadav.net users, local spread of the virus is starting to fall dramatically in Indonesia. Perhaps this is due to the many local antivirus that can eradicate the virus locally. And also because the users of Windows XP that have been reduced because some had to upgrade its operating system to Windows Vista or Windows 7 a very safe from viruses, especially viral infections locally. The spread of the virus in Indonesia more dominated by viruses and malware international SmadAV certainly can not be overcome. You must and highly recommended to use the international anti perlindungkan your computer from viruses and malware of this international.
What are the advantages compared SmadAV SmadAV Pro Free?
SmadAV Pro has many additional features that do not exist in SmadAV Free, the following are additional features that you would get on SmadAV Pro: Automatic Update Online, 10x Faster Scanning, Exception List, Maximize / Resize, Change Color Theme, Indonesian / UK, Admin Password, and License Use of Profit. You must be a donor to get SmadAV Pro.
[Click here] To see an explanation how to get SmadAV Pro>>
Why Use SmadAV 2011?
SmadAV made ​​with the aim to clean and protect your computer from viruses spread locally that many in Indonesia.. If you often surf or often install new programs, you are still strongly recommended to merge with Antivirus SmadAV Import (eg free is Avira, AVG or Avast, and the pay is Kasperksy, Norton, or NOD32). SmadAV can work with almost all antivirus imports so that your computer is completely protected from viral infection both local and foreign virus (global). Currently SmadAV 2011 already identified most of the local virus widespread in Indonesia. These are the reasons why using SmadAV:
SmaRTP Technology, SMART-Protection
Smad-Behavior Technology
Smad-Lock Technology
Smart Scanner (Intelligence)
Cleaner Infected Document
Cleaning & repair (1500 value) Registry
Latest update at each revision
Weapons Manual is very easy to use
Free
Portable and support OS Windows 2000/XP/Vista/7
Read more>>
Perhaps there are many who ask this. You have to re-download files SmadAV 2011 latest revision later opened SmadAV the program, there will be confirmation that SmadAV will be updated. SmadAV Free version has no automatic update feature to get automatic updates via the internet you should use SmadAV Pro version. If using SmadAV Pro, you no longer need to think about updating SmadAV because SmadAV in your computer will be automatically updated every day. SmadAV will continue to be revised in the most rapid period once a week, depending on the development of the virus in Indonesia. You can get news & updates directly to your Facebook by signing up in advance at SmadAV facebook page, click here to apply directly .
Where to Ask for Help, Giving Criticism-Suggestion, or Bug Reports?
SmadAV have 3 places for all Smadaver (User SmadAV):
Forum SmadAV (ForSmad)
Smadaver strongly encouraged to register at the Forum SmadAV. Because in this forum Smadaver can ask questions and consult directly to several team members SmadAV. Moreover, the forum is also intended to learn the ins and outs of virus and antivirus. So, if you want to get a quick answer just send a post on this forum.
Programmer Blog SmadAV
This blog contains information about all the latest developments and developments SmadAV viruses in Indonesia.
Facebook SmadAV
If Smadaver SmadAV want to get information updates directly to Facebook, just join in this SmadAV Facebook page. There could also pass Smadaver criticism, suggestion or report a bug or maybe a thank you: P
Donations / Contributions
By sending Donation, you will get a Registration Key that can be used to register SmadAV Pro so that you can use the additional features for the Pro version. And also you can help the development of artificial Antivirus SmadAV Indonesia to continue to protect and solve local viruses which many in Indonesia.
Read more about making donations & benefits>>
Report critical bugs or send suggestions
No software is perfect, SmadAV continue to require improvement and this can only be done if the known shortcomings. So Smadaver criticism should send suggestions or report bugs if found, send directly e-mail to a Programmer: smadav@gmail.com . All reports will be investigated for improvement SmadAV next revision.
Upload samples of the virus in the Folder Virus SmadAV