RADIO OVER INTERNET PROTOCOL GATEWAY ROIP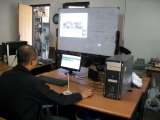 RADIO OVER INTERNET PROTOCOL GATEWAY ROIP
Located in the Hardware Laboratory UNIKOM, on Monday-Friday, 27 September to 1 October 2010, has held Radio Over IP Security Studies, namely the security of Communication Radio encrypted using the gateway (ROIP) that connects between the test sites in Digital Bandung with an undisclosed place in Jakarta.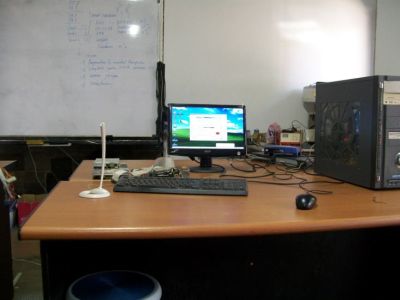 Setting a PC to be used as Geteway ROIP Bandung-Jakarta
By using the Gateway ROIP enough to use HT (Handy Transceiver) then Distance communication can be conducted smoothly like normal radio communications point to point, here by using ROIP then the distance is no longer a barrier to be able to communicate in a transmit news or important information Other than a remote area to downtown or vice versa.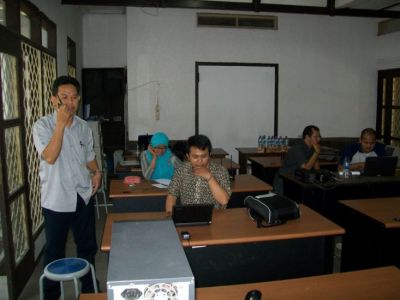 Mr. Dervish is trying HT Yaesu VX-2 to communicate with colleagues in Jakarta Gateway
In this trial has been conducted also testing prototype ROIP Nexus Radio Gateway is planned to be launched soon by Creatornya namely YB0KLI Arman Yusuf October 17, 2010 in Sidoarjo.
Reference at Nexus Radio http://yb0kli.ham-radio-op.net/radionexus/
In the event this test comes YB0KLI ROIP Arman Yusup.M.Kom and YC1JEA Taryana Suryana, M. Kom as Expert Resource Persons in the study of Radio Over Internet Protocol.
Restia, Sigit, Arman YB0KLI, Dervish, Taryana YC1JEA, Dedes YC1JEL, Agus, more discussion Implementation of Radio Over IP Encrypted Communications
Hopefully, the results of these studies and trials, can then be implemented to interests of the Nation ...
Thank you very much for all the supporters of this event:
Dedes, Ridwan, Bobby, Mr. Tono, Ceu Idik, Donny, Mrs. Kania, etc was
73 de yc1jea